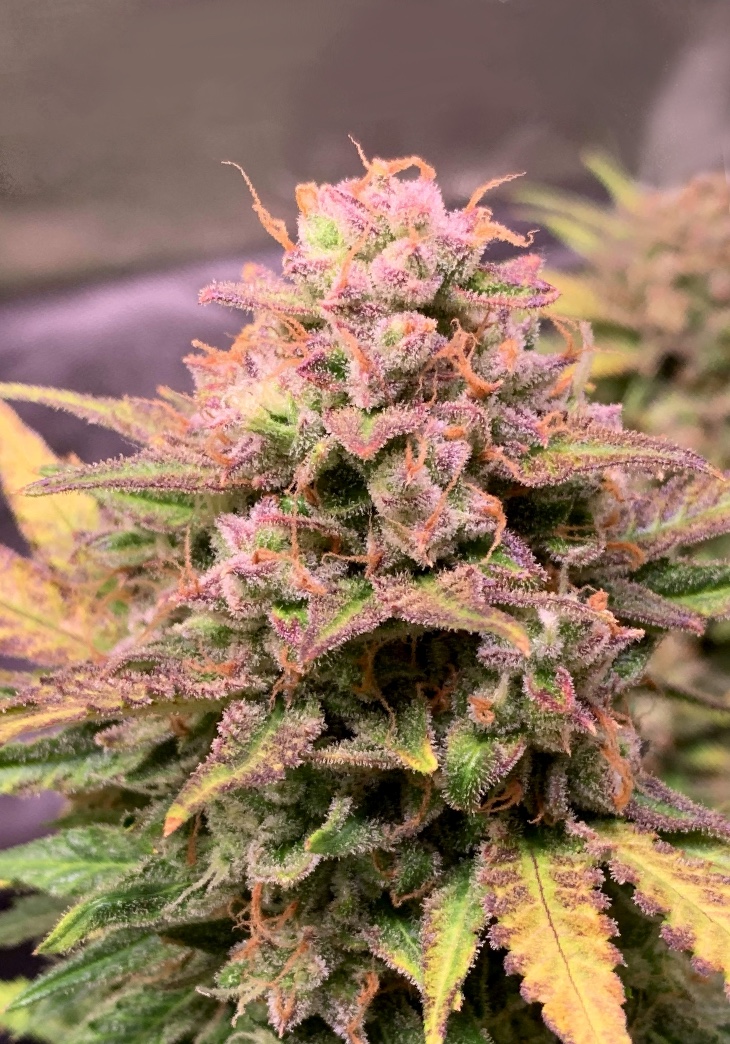 6 seeds

Auto Lemon Zkittlez
THC: 21%
Origin: Mexican, Colombian, Afghani
Type: 63% Sativa / 32% Indica
Height: 70 - 100 cm
Flowering: 70 days
Harvest: 350 - 650 g/m2
General description
Magnificently looking and fragrant, Auto Lemon Zkittlez is a novelty in the world of cannabis breeding. A cross between the outstandingly productive Las Vegas Lemon Skunk and Zkittlez, it has been renowned for its miraculous sour sweet aroma which masks the cannabis musky odor as if a small marijuana bush was hidden amongst dense growth of various flowers and berries. Citrus, floral and fruity tones are, indeed, a unique combination, but Auto Lemon Zkittlez is just as amazing in its other virtues! For one, its exotic charm comes in sturdy life-loving plants that sustain non-perfect conditions, while in perfect environment Auto Lemon Zkittlez shines as a heavy yielder that not every photoperiodic strain can compete with. A one of a kind genotype, it descends from Colombian, Mexican, Thai and Afghani landraces.
Grow peculiarities
One might mistake Auto Lemon Zkittlez for a merely tropical variety, but in fact due to Skunk and Afghani heritage she is a universal globetrotter that briskly develops in any kind of appropriate indoor or outdoor environment as well as greenhouse plantations. Plants seldom exceed 80 cm height indoors, which makes this strain perfect for stealth cultivation that results in unprecedentedly delicious yield. Out of doors plants tend to protect themselves against insect parasites and molds successfully. Mostly Sativa in their appearance, Auto Lemon Zkittlez bushes are a treat to the eye with those bright shades of green on medium broad leaves and exquisitely shaped buds which turn violet closer to harvest time (if exposed to lower air temperatures). Resistant to hot weather, Auto Lemon Zkittlez needs an average amount of nutrition and regular watering to reveal its incredible potential. Outdoor plants ripen by early September.
Effect
From the incense-like smell one can predict how unusual this experience can be, but inhaling proves: Auto Lemon Zkittlez smoke by far exceeds any expectations! Mild on the inhale, it oftentimes provokes coughing after exhaling – but we at Marley Seedbank have a version that it happens mainly because its appetizing flavor seduces people to inhale more than possible. Anyway, Auto Lemon Zkittlez reveals its impressive cerebral powers in 2-4 minutes after consumed: cheerful and energized, eager for socializing and creativity, free from fatigue – this is how you feel. In 40-60 minutes stoning powers take the throne, relaxing you to a moderate extent: laid back activity remains possible. An efficient aphrodisiac, this yummy Sativa does more than simply enhance your libido: everything feels like it has never happened before! The effects last for 2 hours, leaving a pleasant stoning trace that lingers 30-40 minutes more.