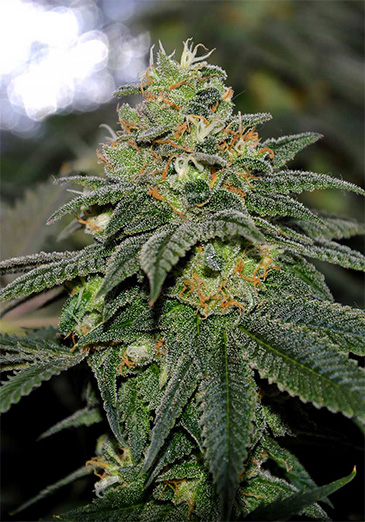 6 seeds

Auto Green Crack
THC: 25%
Origin: Colombian, Mexican, Afghani
Type: 80% Sativa / 15% Indica
Height: 120 - 160 cm
Flowering: 63 - 70 days
Harvest: 500-700 g/m2
General description
Well-known around California, Green Crack is a bright example of how stimulating Sativa high can be. Marley Seedbank dared to develop their own autoflowering version, increasing both THC level and productivity. For this purpose Green Crack was crossed with an autoflowering Sativa landrace that breeders prefered to keep in secret. The new Auto Green Crack was stabilized in Jamaica after reaching a precise correspondence with this classical hybrid: a sour and sweet mango aroma, long-lasting euphoric effects and vigor. This strain is a descendant of Mexican, Afghani and Colombian varieties.
Grow peculiarities
When tested, Auto Green Crack mother plants proved themselves just as sturdy and resistant to diseases and parasites as Green Crack has always been. Clearly Sativa in their appearance, these plants are non-capricious and universal enough to flourish in any kind of environment including outdoor and indoor plantations, greenhouses, terraces and hydroponic setups. Whilst flowering, the odor gets very intensive, yet it is somewhat sweetened with mango hints. Ready for outdoor harvesting by early September.
Effect
The effects of Auto Green Crack buds smoking are compared to what people feel being in a lucid dream: everything around gets beautiful and interesting while your mind is clear as the air itself! Strongly antidepressive, Auto Green Crack can even be recommended to those combating bipolar syndrome or depression. A great ice-breaker at parties and dates. Those in search of psychedelic experience can enjoy pleasant perception alterations under the influence of these sweet-smelling fluffy buds. The impact does not wear out for 2 hours and a half.