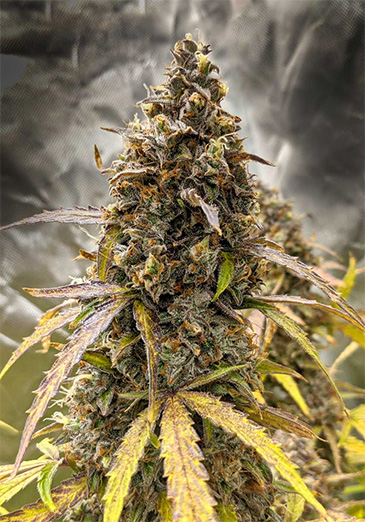 6 seeds

Auto Chocolate Cookies
THC: 25%
Origin: USA
Type: 73% Indica / 22% Sativa
Height: 100-150 cm
Flowering: 63 days
Harvest: 350 - 600 g/m2
General description
This strain is a true masterpiece of aroma and potency that Marley Seedbank has developed by means of progressive breeding technologies! A cross between Chocolope, OG Kush and an outstandingly potent Afghani Indica, Auto Chocolate Cookies is a wonderful compromise between simple handling and a fancy terpene combination responsible for chocolate and sweet hints that are prevalent in its hashy smell. With 25% THC concentration, Auto Chocolate Cookies is strong enough to overwhelm a novice smoker, and its increased levels of resin production allow for making high quality hasheesh.
Grow peculiarities
Just as beginning growers might hope, Auto Chocolate Cookies is a highly resistant and forgiving variety that flourishes in any traditional growing environment: grow boxes and outdoor plantations, greenhouses and terraces, soil or non-soil. Clearly Indica-dominant, Auto Chocolate Cookies plants get a branchier structure and increase their yields if exposed to low-stress training or ScroG. The odor whilst blooming is sweet, but very intensive. Ready for outdoor harvesting by the end of August.
Effect
Auto Chocolate Cookies can give you the sweetest moments of relaxation. In medicine this strain can be used against chronic pains, seizures, muscle spasms and cramps, nausea and appetite issues, panic attacks and irritability. With potency above average, Auto Chocolate Cookies tripping feels like being lullabied on the ocean waves. Slightly psychedelic, it can either immerse you into the depths of your subconscious or make you enjoy the moment. Great for any hobbies that require staying focused and sitting still. Also helps to sustain heat. The effects last for up to 2-3 hours.