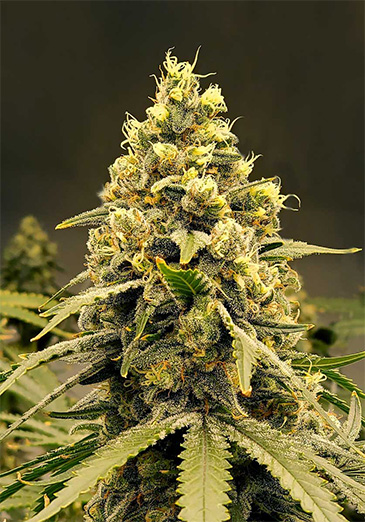 6 seeds

Auto Pineapple Express
THC: 24%
Origin: Hawaiian, Colombian, Afghani
Type: 77% Indica / 18% Sativa
Height: 120 - 150 cm
Flowering: 56 days
Harvest: 400-600 g/m2
General description
A famous fancy-smelling Indica appreciated by hourmands and connoisseurs for its exotic sour-sweet aroma, Auto Pineapple Express. This genotype is a unique cross between Trainwreck, Hawaii and a secret fruit-tasting Indica that Marley Seedbank added for enhancing size and potency. The new autoflowering version is just as fast to ripen as before, but now even sturdier! Also, the resin production rate has dramatically increased, which makes Auto Pineapple Express a suitable material to make hasheesh from.
Grow peculiarities
With a classic Indica structure, Auto Pineapple Express plants are branchy and respond well to any non-stress training. Adaptable to hot weather if given enough water, this strain should be kept safe from overfertilizing. The intensive smell during flowering is mildened with the sour-sweet tropic fruit notes that are this strain's distinguishing mark. Most Auto Pineapple Express plants resist well to molds and insect parasites. Outdoor harvest time is end August.
Effect
A significantly heavier impact now, compared to previous Auto Pineapple Express versions' – beware not to lose your bearings at a party. Higher THC and medium CBD level provide a potent stoning effect that might even result in a couchlock! In medicine, Auto Pineapple Express is used against nausea, irritability and appetite disorders, insomnia, muscle spasms as well as panic attacks. The effects last for 2 hours and can be enjoyed at any daytime.