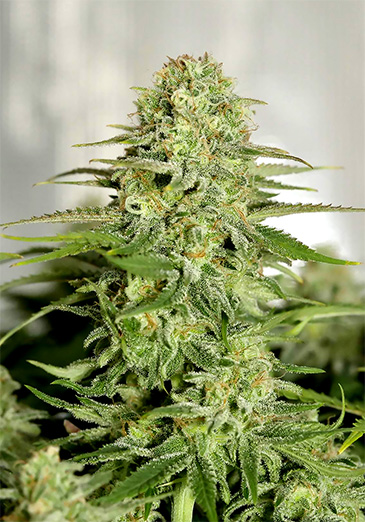 6 seeds
Bruce Banner Fast
THC: 27%
Origin: Hawaii / Jamaica / Afghani
Type: 75% Indica, 25% Sativa
Height: 150 - 200 cm
Flowering: 63 days
Harvest: 700 - 1100 g/m2
General description
The legendary Bruce Banner was a hybrid famous for its overwhelming THC percentage, flamboyant productivity and fancy flavor, however these wonderful buds took long to ripen. Marley Seedbank has decided to release a faster version of Bruce Banner, but without diminishing THC concentration or yielding. How was the mission accomplished? Bruce Banner was crossed with Gagarin, the coffee-smelling king of atomic stone; and then a great deal of breeding was done to select only the fastest exempli and form a new population. Thus, Bruce Banner Fast was born – now a leaning Indica, it has gained both aroma and resin.
Grow peculiarities
Probably not for novice growers, since its size is quite a challenge, Bruce Banner Fast is nonetheless a hardy and resistant strain that can adapt to any environment if provided enough space, water and light. Marley Seedbank thoroughly tested it before release, and the results show that Bruce Banner Fast flourishes both indoors and outdoors (more recommendable), it also can amaze professional growers with its champion productivity in hydroponic setups. Be prepared for a paralyzing flowery stench that these beauties emit starting from mid-blooming – mind not to pass out from staying in the grow room for too long. The beautiful exotic appearance of these plants has both Sativa charm and Indica strength (thick stems, branchy structure). Ready for outdoor harvesting by late September.
Effect
Bruce Banner Fast can make you very slow for solid 3-4 hours, and even afterwards users are hardly anywhere near sober. This shattering stone-effect is only advised in a well-known surrounding with people you fully trust or nobody around. It is also recommended to prepare a place for lying down in advance. Medical application is possible for treating harsh and chronic pains, including those caused by arthritis helpful against. Headaches, insomnia, seizures and cramps, epilepsy, panic attacks and compulsion neurosis, diabetes. Best consumed at night time.