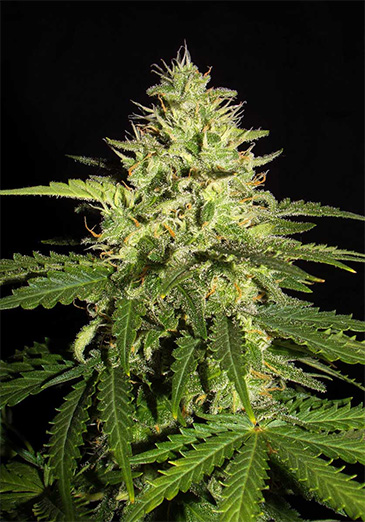 6 seeds
Pineapple Express
THC: 26%
Origin: Hawaii / Colombia / Afghanistan
Type: 80% Indica, 20% Sativa
Height: 150 - 175 cm
Flowering: 63 days
Harvest: 500 - 750 g/m2
General description
Most connoisseurs would say classic Pineapple Express can hardly be improved – too perfect. But at Marley Seedbank we aim our arrows at the sun! The exquisite tropic-fruit taste of this unique cannabis is truly unique, so we bred another fruit-tasting Indica with an exceedingly high THC percentage specially for enhancing Pineapple Express qualities. The result is a more productive strain with amazing resin rates and potency! The original tropical taste has been preserved and even, as some say, somewhat sweetened.
Grow peculiarities
Growing Pineapple Express is just as pleasant as it was. Plants vigorously get through vegetative phase, forming a strong stem. Beware, a more intensive odor at flowering now! Mostly resistant to molds, Pineapple Express may need some shadow if cultivated out of doors. Indoor growers must provide quality air ventilation during flowering, since the strain forms very thick colas. Depending on handling, the new Pineapple Express can be a heavy yielder producing 500-600 g of fresh buds per plant. Outdoor harvesting time is around mid or late September.
Effect
A strong sedative stone-effect is balanced with a hint of cerebral high that allows clear thinking and helps communicate. Pineapple Express is great for treating chronic pains, it also stimulates appetite and combats insomnia, can be used as additional therapy against scattered sclerosis as well as seizures, panic attacks, bipolar syndrome. Helps fight many kinds of addiction. Euphoric tripping lasts for 2-3 hours and is more suitable for afternoon or evening time.